At STC Industries, we are committed to providing our American aerospace industry and military with the highest quality parts possible.
We recently created three new parts utilizing CNC machining, implementing extremely tight tolerances, and maintaining high-quality standards at every step. We pride ourselves on our ability to take on the difficult projects others may be unwilling to attempt and look forward to continually embracing such challenges in the future. The following is a descriptive analysis of four most recent parts machined at STC Industries to be implemented on the carrier based E2D Hawkeye American Naval planes.
Fitting Auxiliary Mechanical Entrance Door
This fitting is being incorporated on the E2D to function essentially as part of door hinge assembly. While the part looks simple and straightforward, the process of its creation required absolute attention-to-detail craftsmanship. 5 axis machined from heat treated 4130 aircraft steel, it required the strictest control of tolerances for fail-safe operation. In fact, while being machined, the part required the two angled threads must intersect within only five-thousandths of an inch (0.005"). We employed Scientific Cutting Tools thread milling cutters to perform close tolerance thread milling, achieving the greatest quality possible in the industry.
Tie-down
Also crafted under extremely tight tolerances on our five-axis machining center, the titanium tie-down is a component meant to effectively hold the aircraft securely when stowed or parked.
Switch Cover
This switch cover provides for cockpit safety and avoid accidental activation. This is an essential safety measure, requiring any operator to lift the cover before operating a switch. This part was machined from standard 7050 aluminum bar stock adhering to strict tolerances on the five-axis machining center. This one was particularly challenging when it came to precision fixturing and locating.
Our five-axis turning centers allow us to boost our efficiency and accuracy, producing parts with less setups and re-fixturing. Adhering to tight tolerances produces extremely high-quality parts with greater precision and accuracy, a necessary detail for any military components.
Averaging roughly two months lead time from project start to final build, all of these parts are complex to machine and equally as complex to inspect. Some of our other most recent parts require working in a heat-treated condition to avoid heat deformation during precision milling and thread milling, allowing for extreme accuracy even in hardened materials such as alloy steel.
All our CNC part programming is done inside Mastercam which provides for time saving and cost cutting dynamic milling and turning. A relatively new lathe toolpath inside Mastercam is dynamic turning, which performed very well in developing toolpaths for the deep undercut in this part.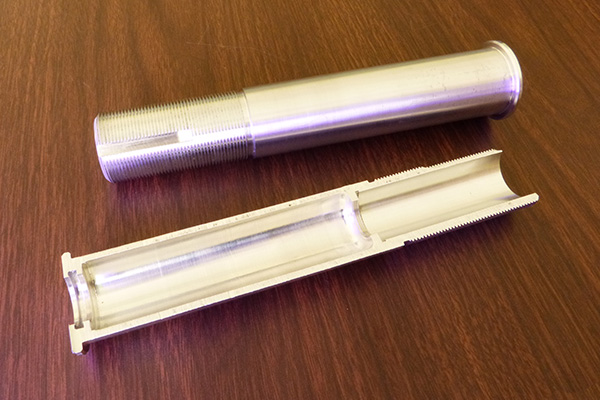 Model based or paper based design doesn't matter to us
We've worked for decades on parts from paper drawings, but we are just as capable in model based definition (MBD) parts. Our seats of CATIA and Solidworks, along with Comparvidia verification software allow us to to translate and verify the integrity of any model format through the entire machine and inspection process, guaranteeing full quality compliance.
We continue to dedicate ourselves to both advanced machining and top quality, having recently passed our 9100 quality audit, a standard we continuously work to maintain. At STC Industries, we are proud of our skilled staff and the painstaking details that go into all of our machined parts.