When it comes to Quality with a capital Q, many sales people throw the word around. Few can show when they deliver.
We consistently shine when it comes to our annual AS9100 certification audit. We don't usually brag about it. This year I'll make an exception.
In accordance with AS9100D, Section 10.1, STC Industries/Spiral Tool constantly monitors core process health and tracks overall system improvements.
Below you'll find our monitoring and improvement activities reports for 2020, generated during our recent management review meeting. Included are KPI reports regarding on-time delivery and non-conformances, both captures and escapes.
CORE PROCESS ANALYSIS, KPIS
HOW MANY BAD PIECES DID WE MAKE?
KPI's or, Key Performance Indicators, are a way of tracking how well we're doing. We track how many bad pieces are made (nonconformances). We track both:
how many we catch before they go to the customer, called captures, and
how many actually wind up at the customer, called escapes
The chart below show that captures were kept below 2%. Scrappage and rework is kept way down. But more important are the metrics on escapes. There is no chart for this because it would have been a flat line at zero. STC HAD NO ESCAPES TO THE CUSTOMER IN THE 12 MONTHS RECORDED. Something we take great pride in.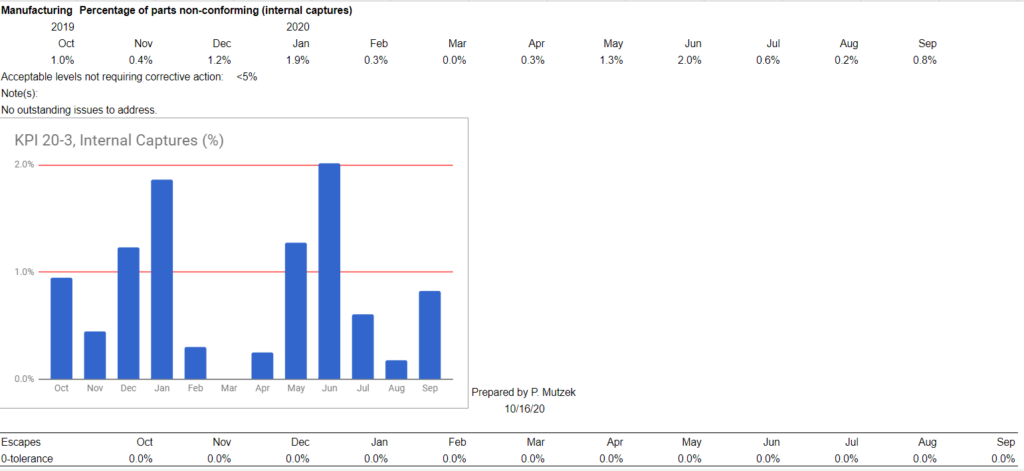 STC Industries' record of non-conformances, both captures and escapes. STC HAD NO ESCAPES IN THE PAST 12 MONTHS
HOW WAS OUR ON TIME DELIVERY PERFORMANCE?
KPI's for lateness were found to be in tolerance (keeping it under 15% is acceptable, anything above that, something's gotta be done about it with a formal corrective action – our QC manual requires it!). It got a little shaky in February, but overall it stayed pretty low, with a yearly average of lateness of 2.2%, or better put, a 97.8% on time delivery record for the past 12 months. I'm pretty proud to hang my hat on that number too.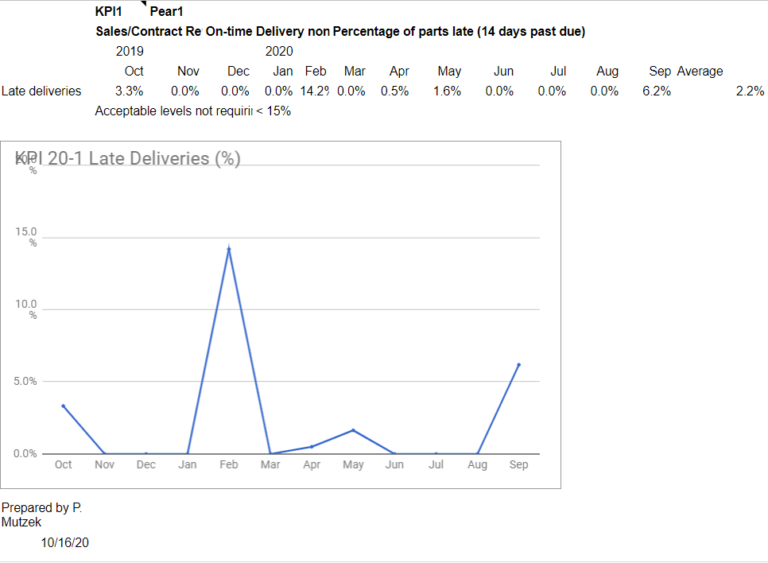 WE'RE CONSTANTLY ACTIVELY IMPROVING
Our quality system also keeps us tracking the improvements made over the audit cycle. We've made 9 notable improvements, some of the bigger ones:
A new Haas VF2-SS vertical milling center, with 30 horsepower, 15000 RPM spindle, and coolant through the spindle
We've replace our trusty old Brown and Sharp manual CMM with a motorized DCC unit
Put in place an intern/co-op program for students and younger employees, with a training program that's constantly improving
Re-organizing infrastructure, replacing our old air compressor with a 10 Horsepower continuous rotary compressor to keep all our CNC's pumped
Improved tool inventory controls
AS9100 CERTIFICATION STATUS
We also wish to report that our AS9100 revision D renewal audit was completed on November 24th, with no non-conformances and no negative findings. We passed with flying colors.
We're pleased and proud, not just of the product we provide, but of our robust compliance to the standards set forth by our customers and by AS9100, always striving to go beyond.
Wishing Happy Holidays, and looking forward to a successful 2021.
Paul Mutzek, Quality Assurance Manager
STC Industries / Spiral Tool