When is a mill a lathe? When is a lathe a mill? Is it turned? Is it milled?
It's both!
Mill/Turn operations have become a major part of our palette of machining capabilities as of late. With the introduction of our 2 inch bar capacity, live-tool turning center early last year, the possibilities of improved accuracy and reduced part handling are showing maximum return. Parts that once required as many as 9 operations in manufacture are now produced in two.
Instead of a more traditional scenario, where a part might start on a vertical milling center and have subsequent finish work performed on a lathe, (or visa versa), a mill/turn center performs both milling and turning in the same operation, thus reducing handling and need for re-fixturing. This is especially beneficial with bar-fed jobs, in that sawing/parting operations are addressed in the same single operation.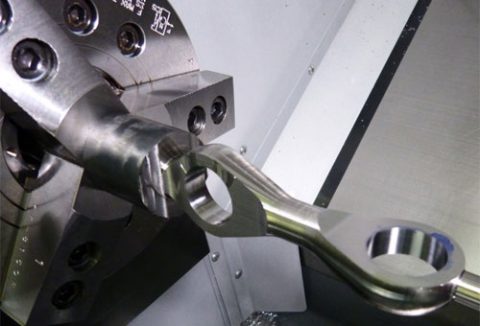 The benefits are manyfold:
When material handling and re-fixturing is eliminated, operator error is reduced, as well as the lost accuracy incurred during reloading parts.
Less operations mean less tooling need to be created and maintained. The increase in complexity and programming time does take it's toll on the process, however, the benefits of reduced tooling requirement far outweigh any setbacks. This is especially true of repeat work.
There are situations where, due to close tolerances in locating and positioning, subsequent operations would become far more time consuming and complicated, to the point of no longer being cost effective, perhaps impossible altogether.
These increased capabilities open up possibilities to turnkey production and concepts yet to be realize- the potential appear endless…
We are still in the process of discovering the fullest potential of mill/turn machining, but once the learning curve is overcome, it's a win/win scenario. For us and for the customer…